Last summer I found this old piano bench at a yard sale Best Friend and I stopped at on the way to a class.
They only wanted $2 for it!

SOLD!!!
It's been sitting in my garage ever since waiting for me to find some inspiration (and time) to work on it.
Donna's Saturday Night Special challenge for benches was the kick start I needed! I wanted a little shelf in from of one of my living room windows to set some plants. And this was the perfect size.
The hardest part of this project was deciding what I wanted to do with it! Second hardest part was digging it out of the "project pile" in my garage.
After a good cleaning up, sanding and more cleaning, I masked off the top of the bench and painted the legs and bracing. I used a mistint paint (Tavistock Green) from Walmart off of my paint shelf.
Once the legs were dry, I touched up the stain on the bench top. Then I waited for that to dry.
Now the fun part. Himself works on a ship in Alaska's Bering Sea. When the ship's charts are updated, they throw out the old ones. And that sweet husband of mine grabs them up for me. I have all sorts of projects lined up that will use those.
And for this project, I decopodged a portion of a chart to the top of the little bench. This was a really old chart and I love the coloring used on it. It looks antique.
Finally I did a bit of distressing to make it look like it had been around a half of forever.
Not too shabby for a $2 project!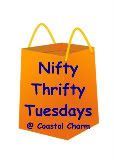 http://christinasadventures2010.blogspot.com/2011/03/20-below-thursday-11.html